Resilient Communications
The Problem?
One of our employees, James, was recently left without power and internet because of the flooding in his area (Brisbane).  Mobile phone coverage was also impacted.  I was also inspired by a post by Jacqui Kernot with a challenge around setting up back up communications systems after a disaster. To create a solution on a larger space for the likes of Lismore type of situations.
The Solution!
James was fortunate as he is part of the Laminar team.  Once the internet and power was cut we were able to help him quickly.  Laminar keeps a stock of loan equipment which is used for emergencies, cyber attack recovery or for special short term events.  We have lots of WiFi access points, switches, routers, firewalls and ancillary equipment for rapid deployment.  While we have written about some of this before, it was the addition of two new systems that made a massive difference recently.
New Systems
We recently took delivery of a Starlink terminal and we finished a new Laminar Auxiliary Power Unit (APUv3).
The Starlink terminal is a satellite internet service provided by SpaceX using a network of low earth orbit satellites.  It offers great speed and low latency (approximately 40ms).  We ran some tests during torrential rain and we were able to achieve speeds of 100Mbps down and 15Mbps or so up (there were obstructions nearby also). We get much faster in clearer conditions (weather and obstruction free) but were very impressed with its performance.  You can see its performance below.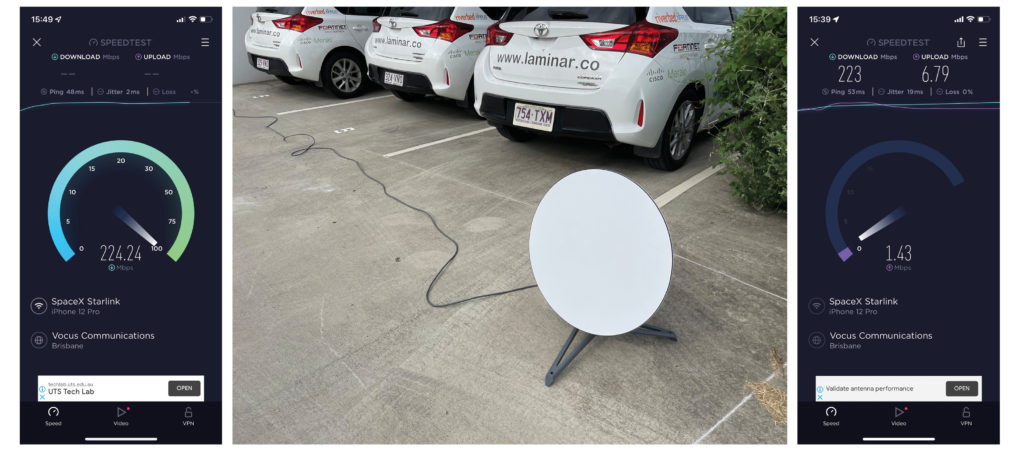 The other key piece of a equipment is the Laminar APUv3.  This device provides power in the form of 240V AC and 12V DC and has 1350 Watt hours of storage.  It means we can run 150W (enough for a Starlink and other equipment) of power for 9Hrs.  The APU can also be charged from a vehicle, 240 mains power or generator, wind turbine and solar panels – all at the same time if needed.
We can deploy the APU in the rain or in the elements along with the Starlink terminal, WiFi access points firewalls and switches. The APU measures 450x350x250.  The 240VAC supply supports loads to 2000W.  Very useful for camping also!

Want to find out more about setting up a backup communications system in case of emergency or following a disaster? Contact our team today!
You can also find out more about our complete range of services here.
- By Alan Kepper