Network Infrastructure encompasses a broad variety of aspects including Hardware/Virtual Equipment, Hosted Services and Software. As every business grows, so does their core infrastructure. Laminar can provide a tailored solution to your organisation to provide a seamless changeover and minimal downtime. Laminar provides, installs, commissions and supports switching, routing and other networking technologies to meet client's LAN and WAN networking requirements.
We build solutions for enterprise, medium and small organisations (government/private). We can build designs for new infrastructure as well as provide solutions around existing infrastructure. To implement complete solutions Laminar often delivers the cabling solution as well. We deliver certified structured cabling plant with copper and fibre and ensure all cabling is tested and complies with ISO 1008, AS3080, and ACIFS009.
Through experience, troubleshooting processes and testing equipment (see Our Networking Test Technology), Laminar's qualified engineers can also identify and resolve your complex IT environment concerns.
Hardware/Virtual Equipment
Laminar works closely with the client to provide network solutions whether it be onsite, campus, Datacenter or cloud based to best suit the needs of the client and its existing infrastructure and environment. Laminar's qualified staff can work with a wide variety of technologies and also maintain vendor partnerships for best pricing and new technology opportunities. We work with small businesses through to large enterprises. This broad range of experience enables Laminar to provide robust solutions, whether working with a client's existing infrastructure or engineering a new solution.
Hosted Services
Laminar's secure datacenter environment provides a range of hosted services to meet our clients needs. These services can include Veeam Backup & Recovery, Storagecraft backup services, FortiSiem as a service and virtual machine hosting.
Laminar's Datacenter is located in South East Queensland, which ensures all client data is kept locally and does not get replicated or leave Australia. This Datacentre is kept to high security standards to ensure it meets all governance requirements for both Laminar and its clients.
Software
Laminar can provide a range of software products to suit any sized clients needs. This can range from operational software, backup software, licensing needs and more. Laminar can also assist in related matters such as assisting with renewals and have also released a secure messaging application called Lamchat.
Cabling example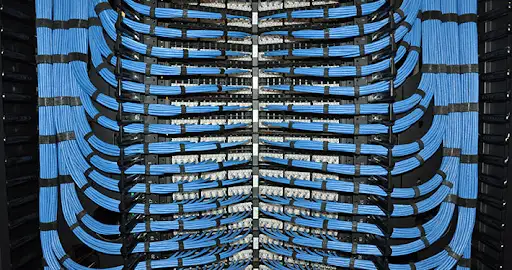 Wireless Wifi
Laminar provides specialist WiFi solutions for warehouses, manufacturing, gyms, laboratories, schools, test centres, convention centres and large halls/facilities. For many of these clients it is often their key IT infrastructure. Laminar's engineers design, survey, implement and support these infrastructures.
Laminar has established itself as a specialist for wireless network designs and have a successful and long track record in this market throughout Australia. Laminar can provide the following to complete end-to-end WiFi solutions or part thereof.
Engineering
Surveys & Testing (5 types)
Specification
Cabling and power
Civil and Construction works
Networking
Authentication
Wireless IT security
Custom and Specialist Mounting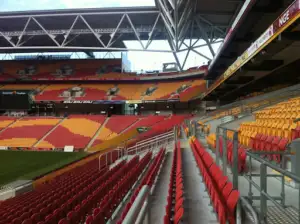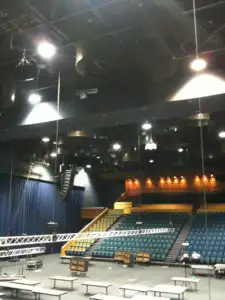 Convention Centre / Stadiums are sites that have large volume use of WiFi and require custom built solutions. These facilities require special implementations to support high numbers of concurrent connections, multiple devices per user, multi-tenanting of the infrastructure, dynamic or changing configurations (changing services eg. trade shows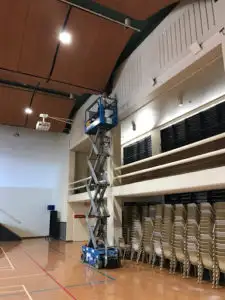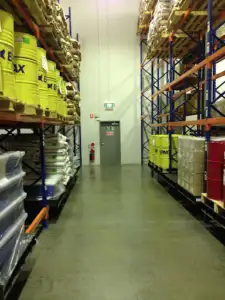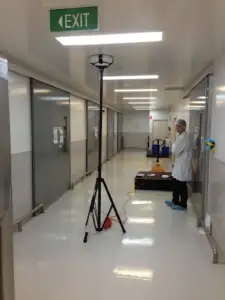 Laminar provides specialist WiFi solutions for warehouses, gyms, laboratories, school test centres and halls.
Wifi Mounting Solutions
Laminar specialises in providing Wifi mounting solutions that can be installed into an array of interior and exterior environments. This service arose to meet growing client needs with a wide variety of specifications from wet environments to hot environments, from new builds to working with heritage listed sites.
Laminar have been able to create high quality mounting devices with innovative engineering and assistance from a 3D printer. These solutions have been able to meet these needs by achieving improved aesthetics for wireless devices (including hiding or covering these devices), mounting in difficult and unusual locations, and installing to building codes in constrained environments, such as heritage listed buildings.
Laminar designs and constructs these specific to client needs for a whole range of products including, but not limited to Aruba, Xirrus, Cisco, Meraki and Ruckas. Wifi mounting solutions can also be created and provided to clients for temporary use.
Should you require any permanent or temporary Wifi mounting solutions, please contact us on (07) 3177 0899 to see how we may be able to assist you.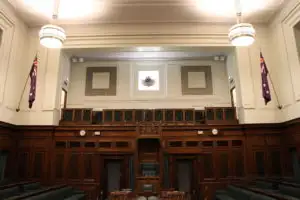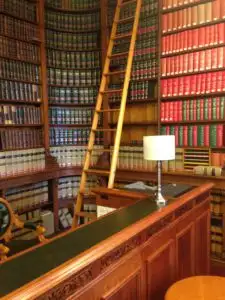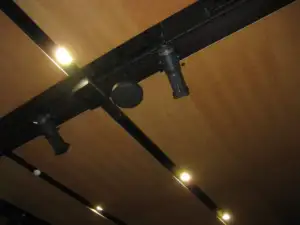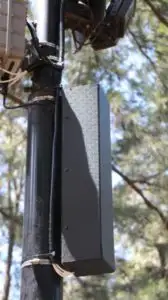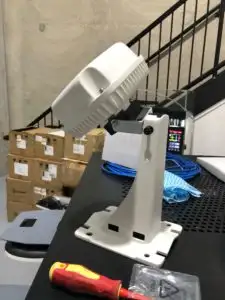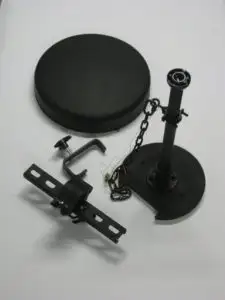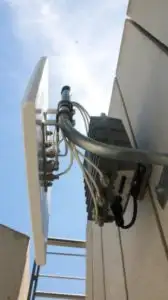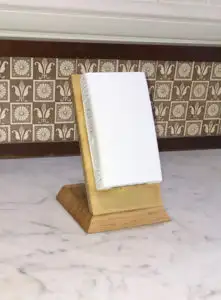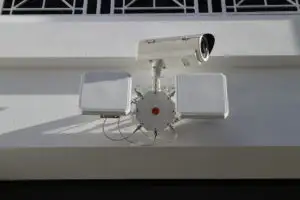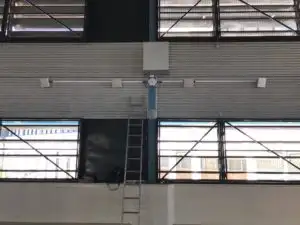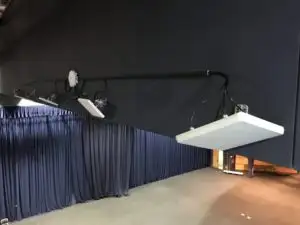 Laminar are experts in implementing IT Security infrastructure. The three keys areas we assess are:
Detection and response
Identification and Isolation
Authentication and Authorisation
A secure infrastructure is crucial for protecting you, your business, your employees and your data. Good governance is particularly important with the introduction of the Privacy Amendment (Notifiable Data Breaches Scheme) Act 2017.
Whilst we work with a broad product range we do have some distinct specialisations. We are experts in the Fortinet product range and maintain a high level of certification with the vendor. We have a range of experienced staff who are certified at various levels right up to NSE7. We also have had our staff make it to the finals of the Asia pacific forti-mastermind competition.
Detection and Response
Laminar can work with the client to provide suitable detection and response solutions. There are a range of solutions that monitor your IT environment. Intrusions and attacks are now a common-day occurrence and so adequately preparing your business is essential. Traditional prevention methods are no longer adequate as they do not detect malware free attacks. Visibility can be achieved using Next-Generation Antivirus and EDR solutions to detect and contain intrusions that would otherwise go unnoticed.
There are a range of solutions available from various vendors, as well as Laminars SIEM service that can record and detect threats as well as monitor relationships between suspicious incidents (refer SIEM services).
Authentication, Authorization and Accounting
This is a system for tracking user activities on an IP-based network and controlling their access to network resources. It enables verification of a users' identity and determines whether they are authorized to access the resources.
There are a variety of ways to implement these securities, which depend on a clients needs. Laminar works with the client to find the balance between usability and convenience, with the required importance of security layers.
Identification and Isolation
It is important to identify the type of attack or intrusion to your IT systems to best find a solution and mitigate the risk it provides to your IT environment and your business. Automatic device profiling and identification allows for devices to be isolated from each other and reduce cyber breaches from spreading throughout networks.
Laminar is able to provide clients with our Security Information and Event Management (SIEM) service that is hosted within our data centre and managed by our cyber security experts. Our SIEM tools help identify insider and incoming threats that would pass traditional defenses. High fidelity alerts also help prioritize which threats need immediate attention.
A SIEM system is one that aggregates data produced by security devices (eg: firewalls), network infrastructure (eg: switches), systems (eg: Domain Controllers) and applications. This data is typically log data, but can also be other forms such as telemetry and contextual data about users, threats, vulnerabilities and assets. The data is stored and analyzed using heuristic and AI tools to keep an eye out for unusual activity. The system is looking for traditional cyber security mischievous activity from specific sources (such as a firewall) but also more sophisticated attacks by correlating information across many client platforms or data feeds.
The key attribute of the SIEM is its ability to correlate and analyze data from many streams. For example, a switch may record a port "flapping" which in itself is not a major concern in many cases. However a port "flapping" correlated with many failed attempts to connect to a PC and a server, with a user connecting to a suspicious unsecured web site would be a major concern.
The data is stored for an agreed period in Laminar's Brisbane data centre facility and is retained in case there is an incident and subsequent investigation. All data, analysis and reporting is retained within that data centre. Some clients will find the service useful even if they already store logs, as it provides some governance around incident reporting. That is, if internal logs of data are tampered with, there is a second source of the "truth" located off site.
The Laminar SIEM service is being offered in three tiers, that build upon one another:
SIEM Level 1 – Base level: This service is the entry level offering whereby Laminar simply records data within the SIEM framework. Clients can connect and read or review the data and do some basic analysis themselves. In the case of an incident, the system will be made available to investigators who can use the extensive tools we have or use their own. Pricing for this service level is based upon the size of the customers infrastructure, the level of detail needed to gather (based on risk profile) and how long data needs to be retained.
SIEM Level 2 – Analysis and Alert: Building on the Base service, the SIEM system will actively monitor and analyze the data streams using the heuristic and AI tools. These tools improve and adapt in time. The client can elect to receive alerts directly and then use their login Laminar will provide, so they can review the situation. The system offers the ability to create the following reports:
a) Out-of-the-box pre-defined reports supporting a wide range of compliance auditing and management needs including – PCI-DSS, HIPAA, SOX, NERC, FISMA, ISO, GLBA, GPG13, SANS Critical Controls b) To meet GDPR requirements: Personally Identifiable Information (PII) can be obscured based on an administrator's role.
SIEM Level 3 – Reaction: Building on the previous two levels, the Laminar help desk and engineers will respond directly to alerts from the SIEM or problems that are raised with us. In this case the Laminar Help Desk or Network Operations Centre will be monitoring client systems and will react in accordance to client needs.
The Laminar SIEM uses Machine Learning to detect unusual user and entity behavior (UEBA) without requiring the Administrator to write complex rules. Our SIEM tools help identify insider and incoming threats that would pass traditional defenses. High fidelity alerts also help prioritize which threats need immediate attention. Each client has their own partitioned SIEM system (multi-tenant architecture) and isolated from others.
Should this SIEM service sound like something you would like to trial or implement, please give us a call to discuss on (07) 3177 0899.
Laminar's engineered point-to-point wireless solutions provide guaranteed performance across long distance links. These links are typically used to connect multiple sites, which could be located across regions that do not have access to fibre links. Laminar uses numerous technologies to assist clients with establishing wireless links. We take responsibility for the entire installation. This includes scoping, design, implementation, test and ongoing support.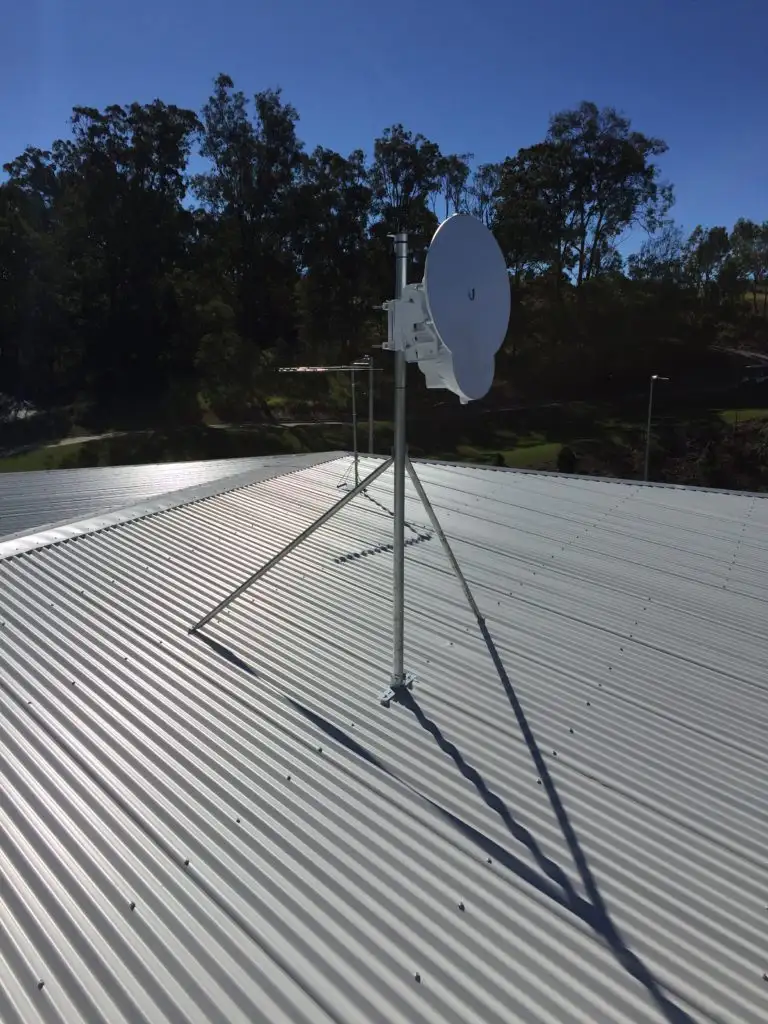 This link is a roof mounted Ubiquity 24HD 1Gbps full duplex link.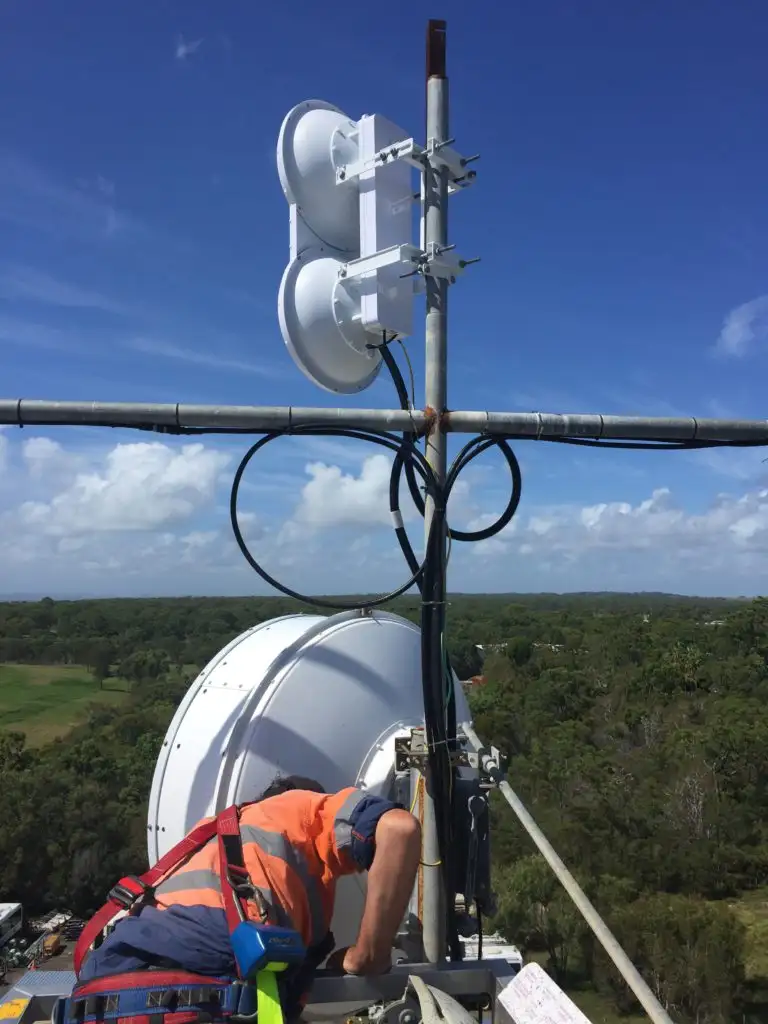 In this example a Ubiquity AF5 is operating above an NEC Pasolink 30M AGL for the Kingfisher Bay Resort. 20KM over salt water.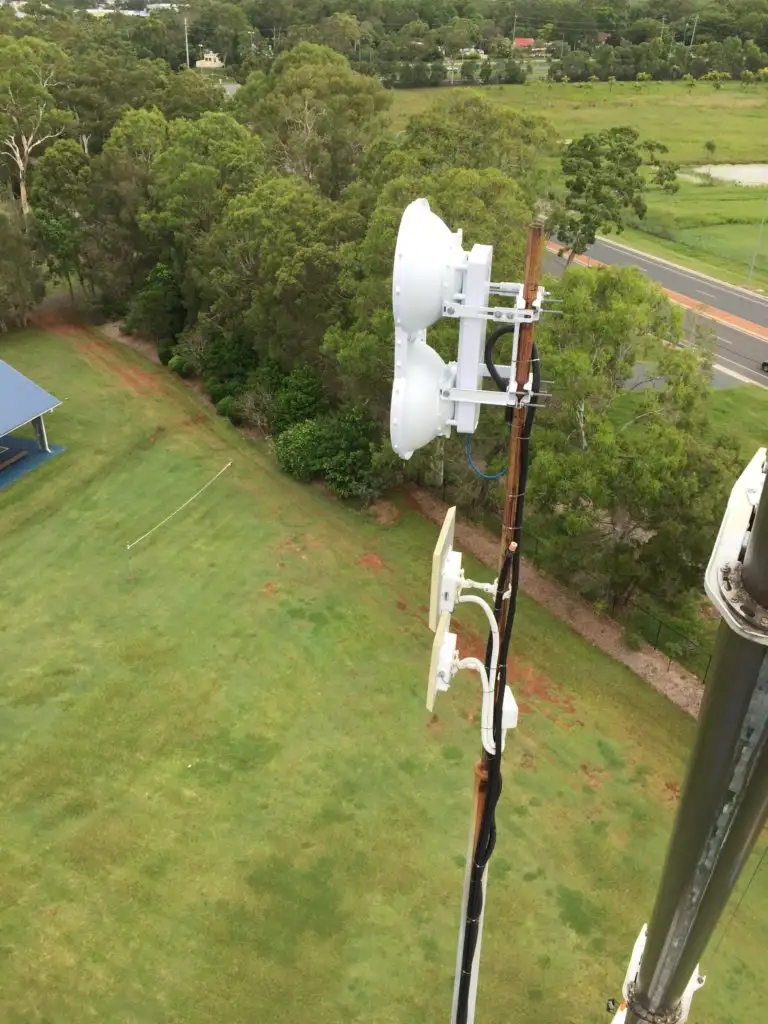 In the example to the right a pair of Ubiquity AF5's are used to extend the internet, to a school campus, that was unable to obtain reliable internet access. Due to their proximity, this link runs at 0.6Gbps full duplex.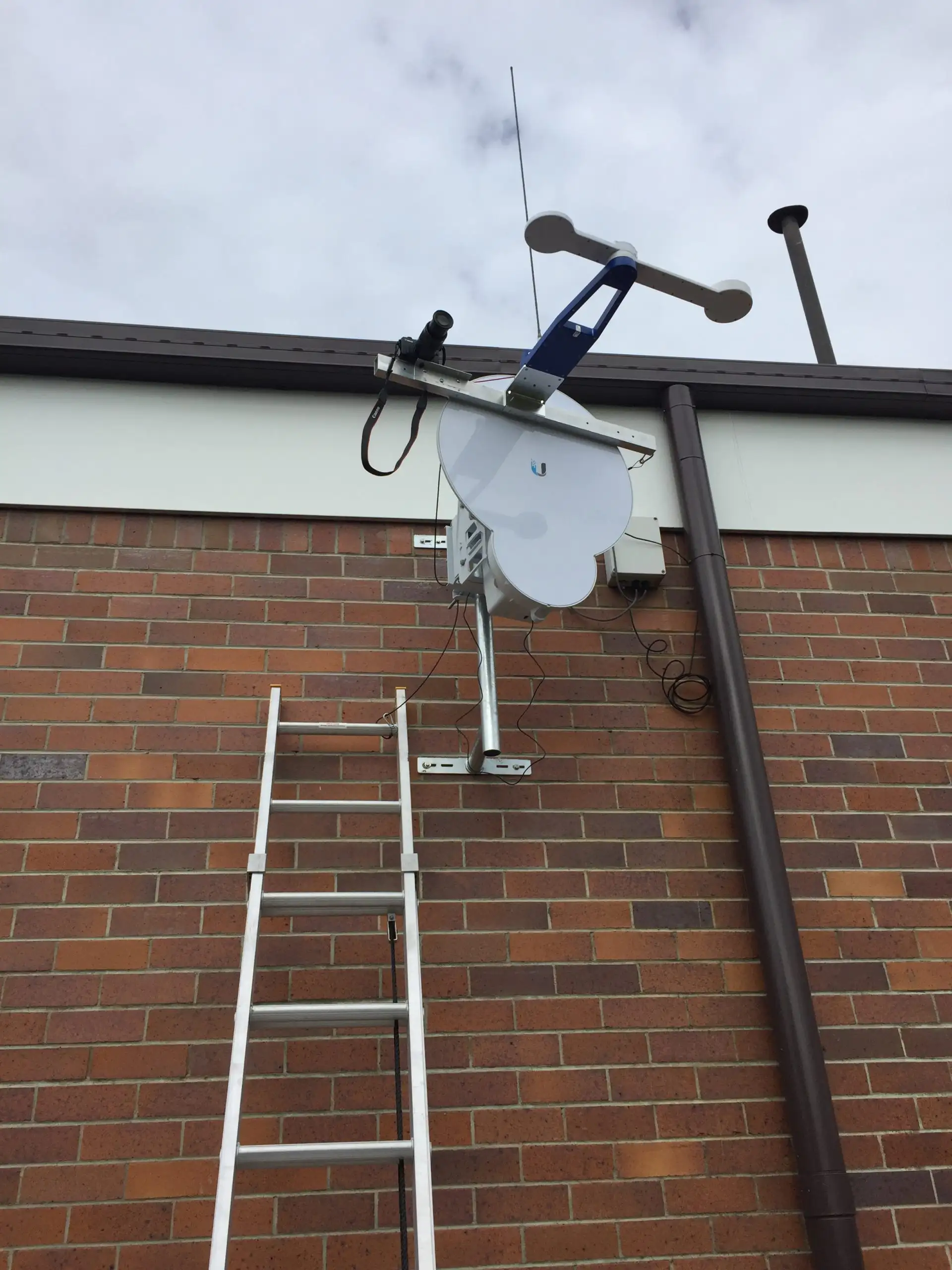 This example shows the antenna alignment tool used to aim a directional antenna using the "Smart Aligner" tool. This is very effective in setting up the link with 0.3 degree accuracy when it is not possible to sight the remote end. It is also used to audit antenna installations.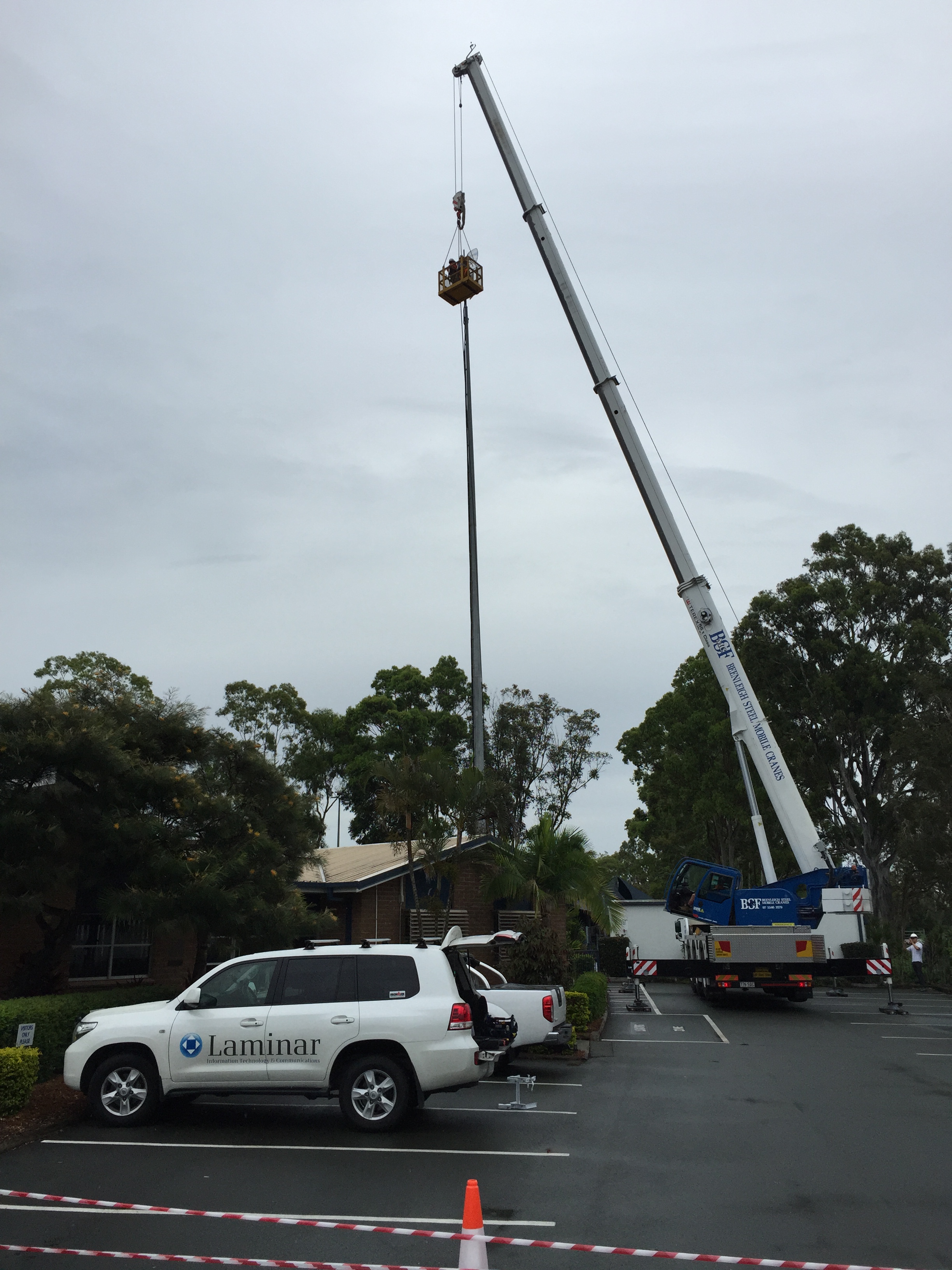 In the example to the right, Trinity Lutheran College uses 2 Ubiquiti 24GHz Airfibre Links to connect two campus' to provide seamless network access.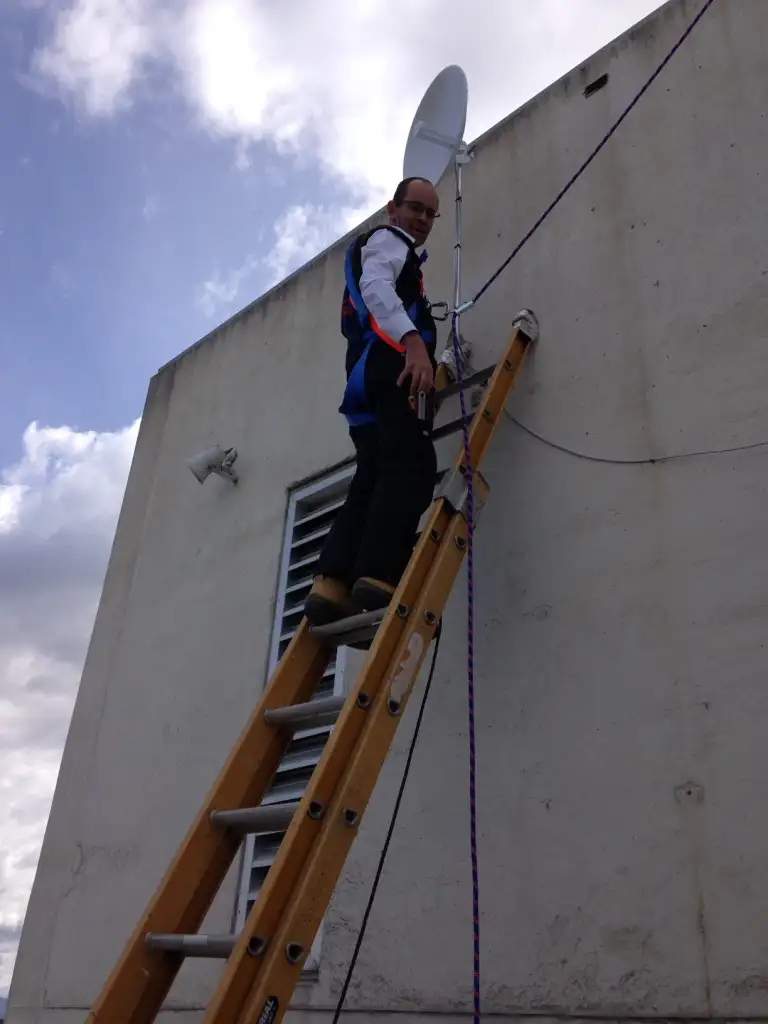 In the example, the High Court Tower in Canberra, was used to create a bridge between two offices, that were not able to connect through line of sight.
Laminar has a wide variety of equipment for wireless surveys and network testing.
Wireless Surveys
There are many types of wireless surveys which can be carried out. They are:
Predictive: A predictive survey uses the capabilities of the Fluke Airmagnet software or Ekahau Sidekick to calculate likely wireless performance in 2D or 3D. Floor plans are entered into the system with physical details of the building overlaid. The system calculates many WiFi parameters for presentation in a graphical manner.
Passive: A passive survey is derived by walking around a site and taking constant measurements of the WiFi signals. The Fluke Airmagnet system is used to record these details and graphically represent them on floor plans. These surveys sometimes record everything and other times specific network parameters. The more specific surveys take less time.
Active: An active survey is derived by walking around a site while the Fluke Airmagnet system is connected to the target WiFi system. It records extra details such as the actual data throughput at various locations in an area using iPerf. It gathers other WiFi health details to correlate with data throughput results. The details of these recordings are overlaid on graphical depiction of floor plans.
Spectrum Analysis: A spectrum analysis is conducted to determine the quality of the spectrum the WiFi system will operate within. The Fluke Spectrum XT system records the characteristics of the spectrum in an instance of time and over time. It detects signal strength, duty cycle, interference, and many other details. These recordings are taken at particular positions. These details are important for design and post installation phases. Specialists equipment such as the Rhode and Schwartz Spectrum analyser is used to find interference with high accuracy and out of WiFi band influences.
Design: A design survey involves using the hardware (AP/Array) selected for the WiFi deployment and placing it in particular locations on the target site. The Fluke Airmagnet is typically used in Passive mode to record how signals are propagated around the site. This gives the design engineers a high level of confidence that that design will work to specification. Typically the AP/Arrays are attached to frames or tall poles to simulate actual installation.
Our Networking Test Technology
Laminar has a variety of equipment used to monitor and analyse networks:
● FlukeNetworks OptiView® XG ● Fluke Networks OneTouch AT ● FlukeNetworks AirCheck ● LinkRunner™ AT Network Auto-Tester ● Rohde and Schwartz – Network Analyser ● JDSU MTS-2000 Handheld Modular Test Set ● FlukeNetworks MicroScanner² Cable Verifier ● FlukeNetworks AirMagnet Survey Pro ● FlukeNetworks AirMagnet Spectrum XT ● FlukeNetworks – IntelliTone™ Pro Toner and Probe ● Multiwave Smart Aligner. ● Ekahau Sidekick™ ● DJI Inspire 2 Quadcopter with ZENMUSE X5S camera. (refer drone page)
The modern day corporate office has evolved. We can now seamlessly integrate business functionalities and effortlessly move between written, voice and video mediums. Laminar works across a range of collaborative tools however current popular options include:
3CX
3CX is packed with advanced Unified Communications features that help users increase their productivity and mobility. Integrated softphone for Windows, Web client as well as smartphone apps for iOS and Android offer users all the features they need to carry out their work efficiently. Website Live Chat & Talk, Click2Call, easy call transfers, straightforward audio and web conference setup with the click of a button, integrated wallboard and switchboard, and much more.
Microsoft 365 & Teams
Microsoft Teams is your hub for teamwork, which brings together everything a team needs: chat and threaded conversations, meetings & video conferencing, calling, content collaboration with the power of Microsoft 365 applications, and the ability to create and integrate apps and workflows that your business relies on.
Google
Cloud-native collaboration apps to supercharge teamwork. Drive integrates seamlessly with Docs, Sheets, and Slides, cloud-native apps that enable your team to collaborate effectively in real time. Create and share content with your team on Day 1, with no need to migrate from existing tools.
Drive integrates with and complements your team's existing technology. Collaborate in Microsoft Office files without the need to convert file formats, and edit and store over 100 additional file types, including PDFs, CAD files, images and more.
Laminar is approved to operate its own drone fleet for asset inspection. We recently acquired our RPA operator's certificate (ReOC) meaning that we can now use drone equipment to complement the services we provide.
We use the latest drone technology to inspect customer assets before and after installing equipment such as microwave antennas. We can use the drone indoors and outdoors to scope a project before quoting or inspecting the finished work. We can also determine the performance of antennas by reading field strength performance and also visually "look down" the transmission path.
The drones have 5.2k video and 20MP still picture performance, so accurate detail can be recorded. This process saves money and minimises risk especially if we are trying to engineer a solution. Clients can use our drone services for other asset inspections if required.
Should you require the services of a licensed drone operator for commercial use such as: aerial photography, asset inspections or other assessments, please contact us on (07) 3177 0899 to see how we may be able to assist you.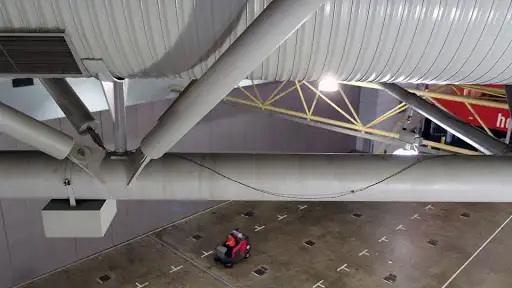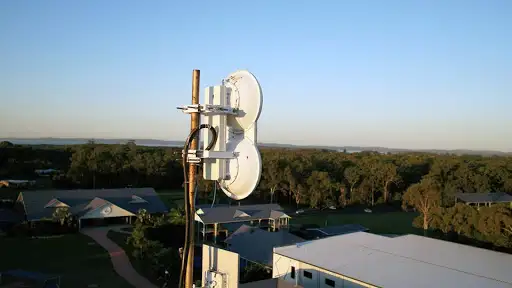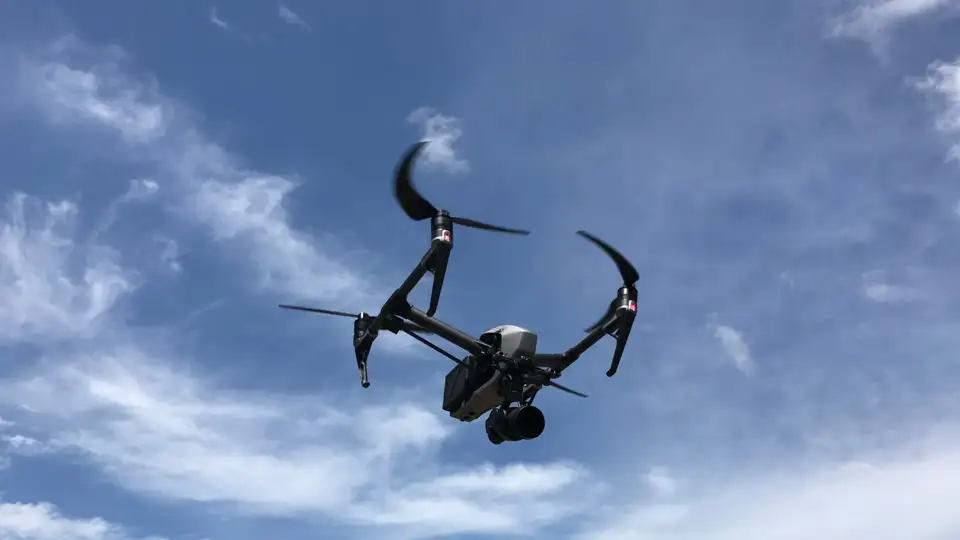 Laminar can continue to provide great service through its support and ongoing maintenance options. These agreements can be customised to suit your needs and can include Preventative Maintenance, Operational Support, Managed Service Programs and SIEM services.
Preventative Maintenance
Provides periodic maintenance to monitor and manage the IT&C infrastructure and minimise any possible future operational issues. The following tasks are covered as a part of the PM allowance:
Review and Report on Wired Network System
Review and Report on Firewall Security
Review and Report on Wireless Environment
Review and Report on Servers
Review and Report on Firmware
Review and Report on NMS
Review and Report on Recommendations
Operational Support Services
OSS consists of two parts. This includes IT support during business hours and also includes any additional client specific requirements which could include additional Support, Maintenance or Services that are not already specified.
Standard Support Services includes both remote and onsite works by our qualified technicians. The agreements can range from allocated support hours per week or month to be used as you require, to regular scheduled maintenance visits right up to a full-time staff member located on site.
Managed Service Program (MSP)
Managed Service Program (MSP) consists of a service or equipment that is in essence, managed by Laminar. This could consist of:
Hardware/Software provided and managed by Laminar
SIEM services provided and/or managed by Laminar
Other Services such as online backups, Data Centres services etc
SIEM Services provided by Laminar
Security information and event management (SIEM) software gives enterprise security professionals both insight into and a track record of the activities within their IT environment. Laminar is able to provide SIEM as a managed service to clients. This service is located in Australia and is managed by Laminar.