How to Handle Your Microsoft TMG Replacement
Microsoft announced a discontinuation of the Forefront Threat Management Gateway (TMG) effective 14 April 2015. This deadline is fast approaching, and for those of you who haven't planned for it, we're here to help.
Most customers have used TMG to easily publish Microsoft applications using its authentication services and single sign-in capabilities. This is despite that fact that it was primarily marketed as security services including firewall, IPS and VPN.
Fortinet's FortiWeb Web Application Firewalls (WAFs) is our recommended replacement for TMG to publish Exchange, SharePoint, Lync and OWA as well as any other web application.
Over and above TMG's offerings, FortiWeb provides advanced security and web application firewall protection for web-based applications.
Let's compare the two
Here's some key feature comparisons between the Forefront TMG and the new FortiWeb offering: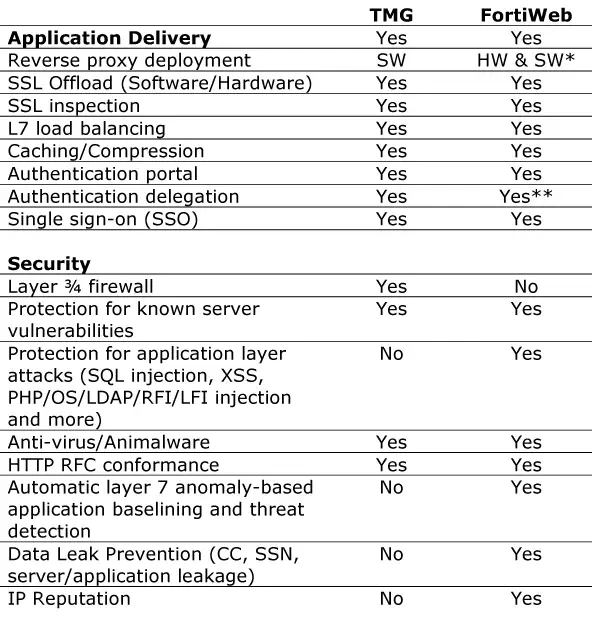 Summary
FortiWeb offers the same key features to make publishing Microsoft applications really easy; the layer 7 load balancing and authentication management.
Single sign-on features are fully integrated into FortiGate as well as comprehensive security functions including AntiVirus, Intrusion Prevention, Web Filter and Application Control. Users can also opt to implement their FortiGate as a transparent firewall,a hybrid approach or as a transparent proxy on the network.
FortiGate can also detect potentially harmful programs to more than one vendor. Please see the full list here.
Laminar can help you with your FortiWeb installation just in time for the TMG discontinuation deadline. Call us on 3177 0899 to set your time.
- By Alan Kepper