The Best Australian Wi-Fi for Caravans
We Aussies love to pack up our caravans and disappear on a camping holiday at every chance we can get. Whether in the outback or along the coast – caravans are like a second home. As we do our regular disappearing act, there is one thing for sure, most of us still want to remain connected. There's no doubt you'll be posting selfies on social media and indulging in some Netflix!
So, the big question is – how do you stay connected when you're travelling off the grid?
Before we dive in and look at the remote Wi-Fi solutions available, you'll need to consider your internet needs. After all, you don't want to miss out on an episode of your favourite Netflix show or worse still, a project deadline because of a poor signal.
The Internet needs to consider
Is it a necessity?
Are you going to use it for work, pleasure, or both?
Will video calling be a necessity?
What's your budget?
Once you've got these considerations out of the way, you can begin your search for the ideal Wi-Fi solution to partner up with in your journeys.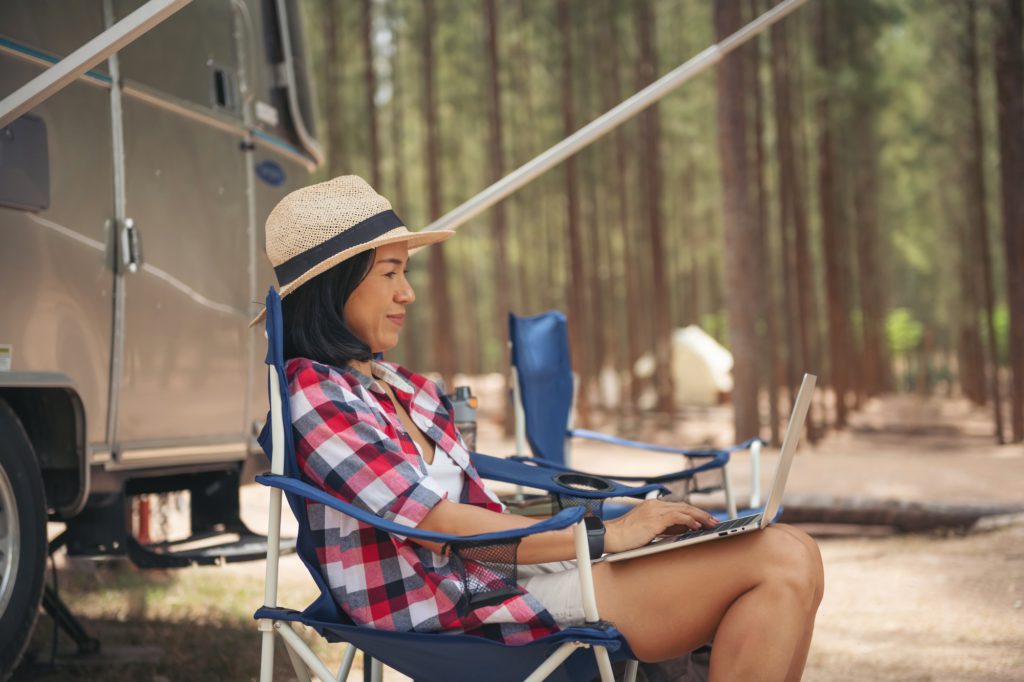 Portable Wi-Fi solutions available
Once upon a time, connectivity would have been unreliable or non-existent in remote areas. Thankfully with the advancements in digital technology today, you're able to stay connected no matter where you are.
To help you along, we've put together a few of the best RV Wi-Fi solutions below.
Laminar APU v3
There's plenty more where these came from – Ultimately, the caravan Wi-Fi solution that best works for you will depend upon your needs.
Limitations of Wi-Fi for caravans
Remember, you cannot expect the caravan Wi-Fi to work as per the modem at home. There are a few factors that will affect its performance.
The number of users: Frustrations will be through the rough if everyone tries to connect multiple devices. Instead, disconnect any device you're not using at the time.
Obstructions: Parking under trees and tall buildings may also slow your connection.
Distance from the modem: Don't all rush at once! But the closer to the modem you are, the better the signal will be.
Other technology to support your travels
To help boost the signal and connectivity, there are some supporting products out there, such as
Wi-Fi signal booster
Mobile hotspots
Public hotspots
Good phone signal
To make the best of the situation, consider downloading shows and music when you are in and around free Wi-Fi zones, such as cafes. If you're working on the go, we suggest you plan your meetings when you know you'll be in urban areas.
On a final important note, while you focus on getting and staying connected, don't forget to consider cyber security. Laminar are experts in implementing IT cyber security infrastructure. So, if you want to ensure you're secure on the go, we're here to help you defend your castle.
Contact Laminar about Australian Wi-Fi for caravans
If you still have questions about the best Wi-Fi solution for your caravan trip, speak to our team today. We will happily answer any questions and guide you toward the best solution for you.
- By Alan Kepper