Five Modern Workplace Solutions for the Digital Era
The rise of modern digital workplace solutions
Keeping employees connected and providing essential tools to do their job effectively and efficiently has always been a top priority for organisations. Over recent years, technology has become one of those critical tools driving productivity.
The COVID pandemic certainly catapulted and fast-tracked the digital era as people shifted towards remote and hybrid working. With this ongoing trend and demand for flexibility, businesses are now adopting technology fit for the purpose.
So, what are the benefits and what workplace solutions can we expect to see in this new era? Here is our list of five modern workplace solutions for the digital era…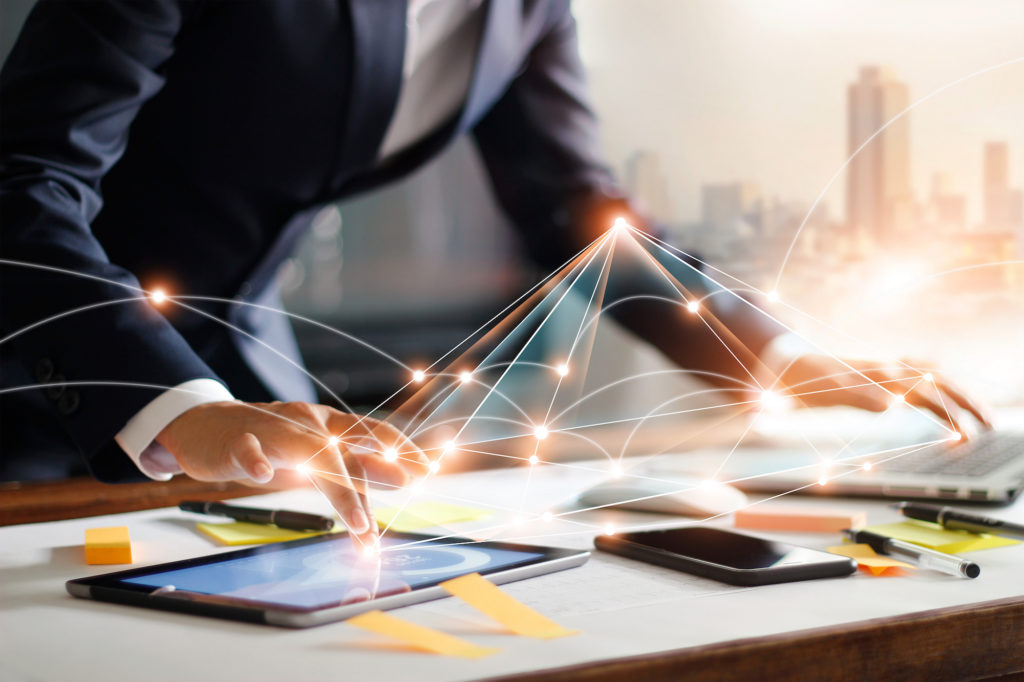 Benefits of digital workplace solutions
The rapid evolution in digital solutions over the past couple of years has enabled and empowered people to be productive on the go. From cloud-based solutions to savvy mobile devices, we can now work from anywhere at any time. For instance, some of these benefits include:
Access to emails and files at any time, anywhere on any device.
Constant connection with colleagues via chat and video calling technology.
Built-in security measures with multi-factor authentication and single sign-on.
Ongoing latest cyber security measures in place.
These are just some of the many benefits from the list of the good stuff that digital workplace solutions offer.
Five digital workplace solutions you need
Previously, intranets used to be a source for internal communication. Now, as the digital landscape has grown and evolved, you have a variety of technological options to meet, chat and work. Let's take a quick look at five of the top digital workplace solutions out there.
Microsoft Office Suite: Commonly used by all and a fan favourite. The Microsoft Office Suite offers a set of programs designed to make everyday tasks easy. These include:

– PowerPoint – Microsoft Word – Excel spreadsheet – Email system – Microsoft Teams for virtual meetings.
All of which are easily accessible on desktop and mobile – making it easy and seamless to complete tasks and collaborate from anywhere, anytime
LamChat App: Our brainchild and personal messaging service. LamChat is one we've been using at Laminar to communicate and share confidential information (internally and externally). It uses the latest ratchet-based encryption technology like WhatsApp and Messenger but with more benefits, including

– The data centre in Brisbane houses the messaging server. – We won't sell your metadata or correlate it with other information to sell things to you. – The software on the handsets/computers and servers are open source or written by people in Brisbane. – LamChat has better security in group chat room situations.
To make it easy for you to get started, we have released our APP for phones in the Apple and Google APP stores. So, if you don't already have it, go ahead and download it via Google Play or the Apple App Store – it's free!
Dropbox: Another cloud-based solution most of you are probably familiar with. Dropbox offers a file hosting service that helps teams easily share and access documents. This simple solution offers more than just file hosting.
Aruba: Formerly known as Aruba Networks. They are leaders in Wi-Fi 6, switching, SD-Branch, and a visionary in Data Centre networking. The world's largest companies rely on Aruba to provide secure, AI-powered edge services platforms.
Starlink/Laminar APUv3: Another one of our genius inventions. Starlink is a satellite internet service provided by SpaceX using a network of low earth orbit satellites. It offers great speed and low latency (approximately 40ms). The other key piece of equipment is the Laminar APUv3. This device provides power in the form of 240V AC and 12V DC and has 1350-Watt hours of storage. It means we can run 150W (enough for a Starlink and other equipment) of power for nine hours. With such network infrastructure solutions in place – you can work remotely from anywhere, under any circumstances – be it rain or shine!
Contact Laminar
Talk to our team today about modern digital workplace solutions. We'll help you work efficiently and stay connected with your team without a glitch from anywhere in the world.
- By Alan Kepper